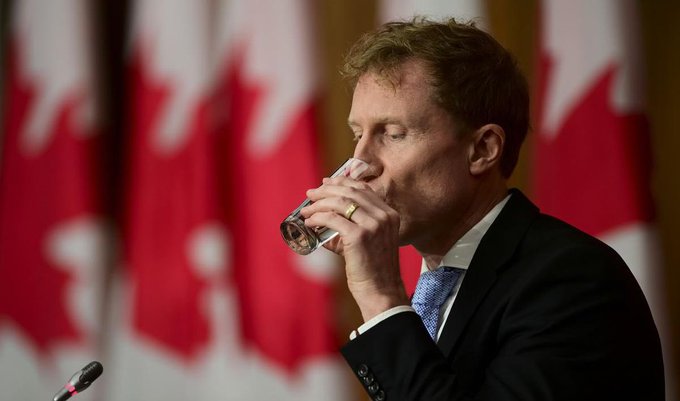 … doesn't it? That fellow enjoying a glass of nice, clean water is Marc Miller, Prime Minister Trudeau's Indigenous Services Minister, telling Indigenous Canadians that Justin Trudeau's promise …
… wasn't worth the paper it was printed on.
Did Prime Minister Trudeau ever intend to keep his promise? Of course he did, he always believes that, somehow, what he says will be made to come true, but that, deciding which promises to keep and making things happen is someone else's job: Katie Telford and regiments of faceless officials make things happen … or not. It's not Justin Trudeau's job. He told the former Parliamentary ethics watchdog that he sees his role as prime minister "as ceremonial in nature." So, you see, he's not the guy we can hold accountable for political promises; that must be some other person. In this case poor Marc Miller was sent out to deliver the bad news.
The Globe and Mail reports that "Assembly of First Nations National Chief Perry Bellegarde said First Nations are frustrated but not surprised by the announcement. He added they have good reason to be disappointed because the Liberals have been in office for more than five years." And lets be fair, the Liberal have spent billions, literally billions, on First Nations and they have promised another $1.5 Billion especially for clean water, but they haven't achieved enough.
My guess, and I cannot emphasize enough that that's all it is, is that too much money was spent with too little planning and control. Designing and building and maintaining water purification systems and the sewage treatment systems that should accompany them and the reliable electrical generating systems that are needed for both is not brain surgery ~ but it is engineering and it needs to be planned and managed. My sense, and once again it's just my personal thought, is that the Trudeau government, from Ms Telford on down, is only concerned with getting money out the door, not with planning or controlling or auditing to make sure that what was done actually works.
Anyway, I'm glad Minister Miller enjoyed his glass of fresh, clean water. Some First Nations haven't been able to do that in their homes for over 25 years.
Twenty-five years ago Jean Chrétien was prime minister, Ron Irwin (anyone remember him?) was the Minister Of Indian Affairs and Northern Development and Ovide Mercredi was the Grand Chief of the Assembly of First Nations; Justin Trudeau was 23 years old and was living in Vancouver, working as a part time teacher, amongst other jobs, and Marc Miller was an attorney, just getting started, with a prestigious law firm in Montreal. So, it's not Marc Miler's and Justin Trudeau's fault that too many First Nations have dreadful social and infrastructure management problems … but they promised to fix them and they failed.
It's time Canada had some real leadership in Ottawa, not a wannabe ceremonial figurehead ~ we already pay Julie Payette $290,000.0 a year to do that job ~ First Nations need help and the kind that Miller, Telford and Trudeau has provide has been inadequate. One picture says it all: it's time for a change.